I am an engineer, programmer, designer, and gentleman living in the state of Florida, USA. You may be interested in some of my projects and experiments in the fields of electronics, special effects, and dangerous Mad Science. Take everything you read here with a grain of salt and remember to wear your safety glasses.
About Me and this Site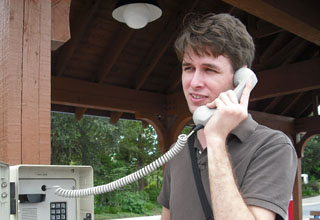 Contents
Welcome to my site! I'm Eiki Märt Martinson. Pronounce it like "Ache-y". It would be the surprise of my life if you came up with a new joke about my name, so don't try. Here's my end of the standard dialogue I go through probably five times a week (see if you can fill in the blanks!):
Me: Eiki Martinson. Nice to meet you.
You: ___________________________________
Me: Yes, I've heard the Billy-Ray Cyrus song.
You: ___________________________________
Me: It's from Estonia, actually.
You: ___________________________________
Me: South of Finland.

My hobbies are reading, building electronic and mechanical devices, and conducting experiments of questionable scientific merit though considerable entertainment value (at least to me). Occasionally I try my hand at the visual arts, with some not-entirely-awful results.
I've been a martial artist of one type or another for many years, spent some time rock climbing at an indoor gym, and am currently back to fencing, this time using longswords and other Renaissance weapons under the capable instruction of the Meyer Freifechter Guild.
Miuks and Murakas are my two cats. They are sister and brother from the same litter; I adopted them from the street at 6 weeks of age.
I do some reading, at least twenty books per year. I'm maintaining a publicly available list of those books.
I went to Florida Atlantic University for my undergraduate education, finishing with an unusual combination of BS degrees in Mechanical Engineering and Electrical Engineering ("like oil and water" said one advisor). My senior project, The Pipe Crawler, combined these fields in a satisfying way.
Although I swore up and down that I'd stay out of graduate school, finally a tempting enough offer reached my ears from one of my former professors, and I returned to pursue my MS degree in Electrical Engineering, conducting research in a new method of saltwater desalination. I defended my thesis and was awarded my degree in 2010.
At present, I work as a R&D engineer at CBM of America in Deerfield Beach, Florida, for which I design and support telecommunications hardware for Verizon and other clients.
You may want to read my résumé; this one is in PDF form.
I have accounts on some other sites:
Many of the projects detailed in these pages could not have happened without the enthusiastic participation of my fellow adventurers:
I met Mr. Wilson in 8th grade and we've been best of friends ever since. We later went to university together; he graduated with a degree in Computer Engineering and is currently employed at SapientNitro.
Mark was one of my partners on the Pipe Crawler project at FAU and later became my roommate, which is an amazing fact considering how often senior project teams came to an end in bitter recriminations, threats of violence, and in at least one case, actual lawsuits. He is presently an electrical engineer at CUES in Orlando, working on, of all things, pipe-inspection robots.
Mr. Wasi is my other Pipe Crawler partner. He graduated with his BSEE in 2004 and is partly responsible for many of the unusual and dangerous experiments you see here.
Not many of my friends have sites to link to, but one of them that has is fellow FAU engineer
Melissa Morris
; visit her site for more information about her robotics projects and career in engineering and academics.
This site has been up in some form or another since 2003. I redesigned it in 2008 and again at the end of 2011. Everything here should be standards-compliant HTML 5 and CSS. Seriously, run the validator linked to at the bottom of every page—I don't think anything fails but I'd like to know if it does.
I've come to find SASS an invaluable tool for CSS development. All of my CSS for this site was generated by SASS using a variety of mixins and functions that I wrote to make things like any-order columns and clearFix easy and refreshingly free of by-hand-calculation.
Design geeks may like to know that, following old typesetting and new web-design practice, I composed everything to a vertical baseline rhythm. You can verify this by clicking the checkbox at the bottom of all of the pages. This runs a bit of javascript that will display a 24px pattern of horizontal rules (and sets a cookie so that your preference will persist).
Maintaining the vertical rhythm across images of unpredictable height is tricky. I've modified Filipe Fortes' jMetronome script to grab the heights of each block of images (I had been coding these as a div or paragraph of class "textimage" for a long time) and adjust line-height accordingly. The only thing that will break vertical rhythm is horizontal scroll bars that occasionally appear in source-code listings in my blog posts; I don't much believe in tweaking these to be different in height than your operating system defaults.
The blog features of eikimartinson.com are running on the open source Serendipity software; the theme you see here is a custom Smarty template I wrote to work with this. I also wrote my own version of the archives plugin featuring a jquery accordion effect, as seen on the blog pages of this site.
Everything here is maintained in various Subversion repositories, one for the static pages, css, and javascript files, one for my Serendipity template, and one each for the plugins I've written.