But is it Art?
I'm not really an artist. I'm an engineer that likes to draw sometimes. But maybe you'd like to see some of that work anyway, so here it is.
Traditional Drawings
A few traditional drawings on paper, mostly in pencil.
Loose Sketches
Some of my drawings are less polished and more conceptual.
Computer Generated Renderings
Done years ago with POVRay raytracing software.
Graphic Design
I've worked as a graphic designer before, and done some work on the side for fun as well.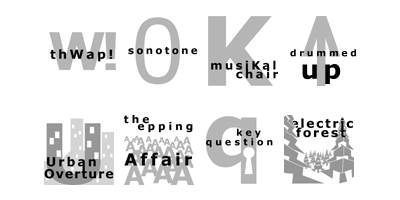 These are some examples of icons I designed many years ago for my friend Jay Wilson. He kept a site at mp3.com devoted to his unique brand of electronic acid-jazz music. Since he made no commercial "releases" and consequently had no album art, we decided that I would create a small icon for each of his songs. Here are some of the best. They are all in a unified style which makes the most of his eccentric titles with a lot of typograpical fun. The font is Verdana, if you're interested.