Finally I am resisting temptation no longer. I did what I always knew I would do and opened up a Cafepress store. My first product: the Defend Lighthouse Point t-shirt!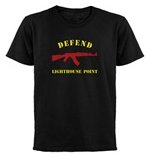 Why "Defend Lighthouse Point"? Why the carefully rendered silhouette of an AK-47? It's partly a homage to a shirt that Adam Savage wore on Mythbusters that read "Defend Brooklyn". It's partly a reference to tongue-in-cheek orders I gave my roommate when I was in California during our last hurricane. And partly a ha-ha-only-serious nod to the idea that maybe our little corner of suburbia is worth defending, dammit. Anyway, if you have to ask, it ain't for you!
Check this space for more exciting products allowing you too to "Live the Eiki Martinson Lifestyle"!