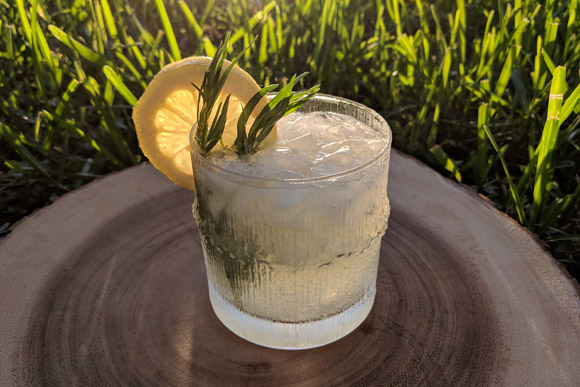 Although I haven't blogged about any cocktail since last July, I haven't abandoned the lab; in fact, I'm finally ready for a first: publishing an original! I've been playing with this one for months but as it's obviously a summer drink, I'm releasing it only now, when you need it the most. Herbal, bright, cold, and not so boozy you wouldn't want a few before five o'clock, Sunshine Through the Tall Grass is just right for hot weather, long days, and meals outside. Here's what you do:
1 1/2 oz. gin. I used The Botanist for this, but I'm not too particular.
1/2 oz. Chartreuse
1/2 oz. lemon juice, fresh squeezed
2–3 oz. ginger beer; I recommend Fever Tree.
Tarragon and lemon wheel to garnish
Fill a rocks glass with crushed ice. Place a generous bunch of tarragon leaves on the palm of one hand and slap it hard with the other. Then plant this bunch in the ice, artfully, along one side of the glass. Add gin, Chartreuse and lemon juice to a cocktail shaker full of ice cubes. Shake vigorously and strain into the glass. Top off with something like 2 to 3 oz. of ginger beer, depending on the size of your glass, how full of ice you had it, and how sweet you want this drink to be. Place a lemon wheel on the rim behind the tarragon for a sunset-through-the-grass effect.
Go ahead and try this while the weather's warm. I'd love to hear about your results and about any variations you try!