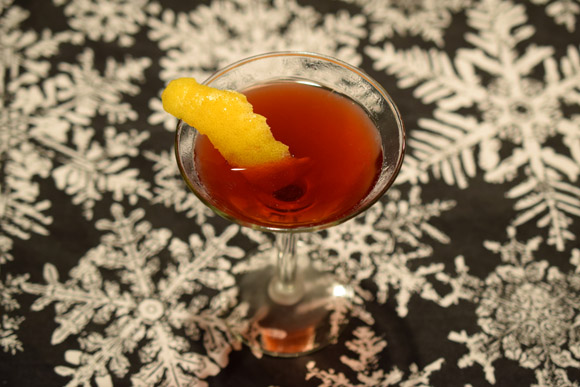 This month's drink is a variation on the classic Negroni, with whiskey in the place of gin to make it even more suitable for winter. It's a good cocktail to make on Valentine's Day: sophisticated, sexy, and, well, red. Here's what you'll need:
1 oz. whiskey
1 oz. Campari
1 oz. sweet vermouth
Stir all ingredients in a "mixing glass" or a shaker with ice, but do NOT shake it. Strain into a chilled cocktail glass—I keep them in the freezer, but you can fill a glass with some ice and water while you build the drink to get it cold quickly. Garnish with a twist of lemon or orange.
This month I used some Redemption Rye because it's good and reasonably priced and, whether they realize it or not, so many people have the dangerous practice of treating Saint Valentine's Day as an opportunity for redemption, don't they? Using bourbon instead would be perfectly traditional as well, and might result in a sweeter or richer-tasting drink, while rye will tend to emphasize the herbal character of the Campari and vermouth.
Some variations:
Use bourbon instead of rye
Increase the whiskey to 1.5 oz. This will further deemphasize the bitterness of this drink.
If you really don't like Campari, and many people don't, try Aperol instead. It might help you get into this class of cocktails.
Enjoy!