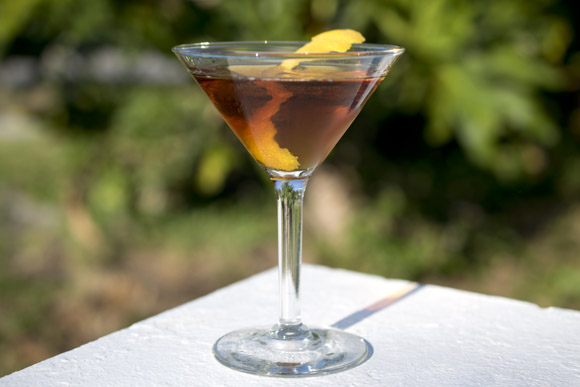 Although famous for drinking generally, Ireland isn't exactly well-known for its contributions to cocktail culture. The country produces maybe three potential ingredients of note: Guinness, Bailey's, and Irish Whiskey; but the combination of all three in the form of an Irish Car Bomb manages to also mix in a threat of violence (to your head at least) and offers the sort of unpleasant novelty drinking that we're not about here.
One of America's two main contributions to the celebration of Saint Patrick's day* is the adulteration of domestic lager with green food-coloring, which is quite a bit worse.
But for a more sophisticated way to enjoy something Irish this Friday, try the Emerald:
2 oz. Irish whiskey (I used Jameson's because it was handy, and because I visited the former distillery last summer)
1 oz. sweet vermouth (the remains of February's Carpano Antica, still fine after a month in the fridge)
2 dashes orange bitters
Just like last month, stir all ingredients in a mixing glass or shaker with ice, but do NOT shake. Strain into a chilled cocktail glass and garnish with a twist of lemon. Cocktail fans will recognize that this drink is a Manhattan with Irish whiskey and orange bitters in place of rye and Angostura.
Sláinte!
* The other is corned beef. ↩