In my product designs at my day job I sometimes specify torx-headed screws. This could be because the heads resist tool damage better. It could be because torx-heads are more available at the time for some particular combination of thread and length and material I need. Or it could just be because they look cool! Whatever the reason I need a number of torx drivers; in the larger sizes 1/4 inch hex-ended bits are just fine but for smaller sizes I prefer to have small screwdrivers for each one. Since I don't like them rolling around loose in a drawer I made a rack out of 1/4 inch birch plywood on the laser cutter.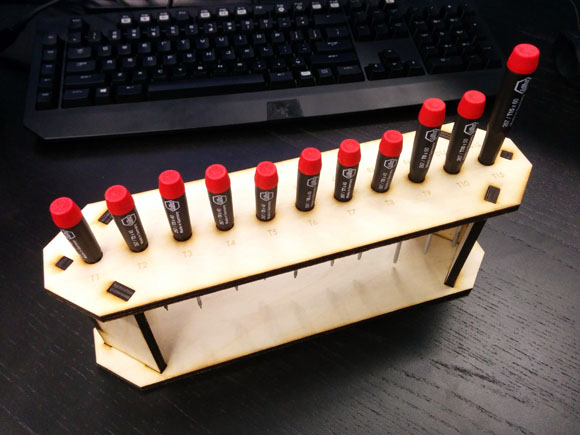 This design has six pieces assembled using wood glue and tab-and-slot joinery. I have 11 torx-headed screwdrivers from Wiha covering T1 through T10 and T15 sizes. I also laser-engraved text on the top surface so I know which one goes where. On our 40W Full Spectrum Lasers machine I did four vector passes at 50% speed and 100% power for the cutting, and one raster pass at 100% speed and 80% power for the marking, all using the standard two-inch lens. Four passes at those settings was enough to let the parts mostly drop free, with only a bit of clean-up required. I glued up the parts with Titebond wood glue and stuck four self-adhesive rubber feet on the bottom to finish this project.
Download a PDF with the design in 2D ready for laser cutting or a package of SolidWorks files if you'd like to play with the design in 3D.
Add a Comment