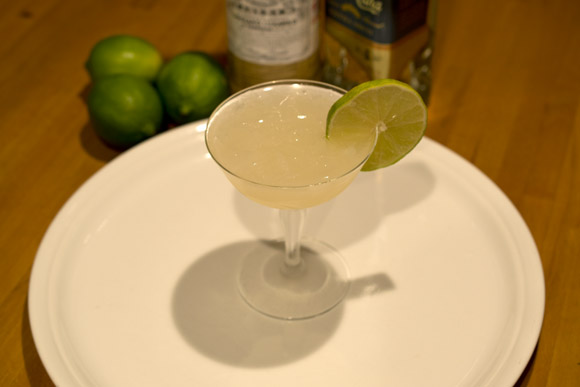 Today, July 21st, we honor the birthday of Ernest Hemingway, a man that did more for cocktail culture, simply by drinking, than almost any career barman can claim for a lifetime in his trade. But what will we drink? The choice of Hemingway cocktails is wide, of course: Death in the Afternoon, Death in the Gulf Stream (he's a dangerous man to drink with), Green Isaac's Special, the long list of standards that appear in his books. But probably the most characteristic classic out of the vast Hemingway drinking-lore is the simple Daiquiri.
Unfortunately, it may be only the Hemingway association that rescues the Daiquiri from its more recently acquired baggage. Adulterated with strawberry or mango or God-knows-what, laced with lurid artificial colors, churned out of machines to the point that "Daiquiri" now is synonymous with "adult Slurpee" in the minds of most, few cocktails have deserved better as much as this one does. And, it has to be said, it doesn't exactly sound like a manly thing to order in most places. But if your mates start to giggle, stroke your beard, knock back one, two, three, up to 16 (!) of them like the hero himself, and take to the seas in an open boat to face your own Death in the Gulf Stream. That'll shut 'em up.
Now, Hemingway's drink was not THIS drink, exactly (bracingly, and fittingly, his omitted the sugar entirely, relying on Maraschino for sweetness). And indeed, La Floridita in Havana, where the man did most of his Daiquiri-imbibing, kept experimenting with the basic recipe during those years anyway, so who knows? This one is also not a blender drink, although it could be, for something a little more like the frozen rum Slurpee decried above, but still respectable.
2 oz. white rum (Flor de Caña "Extra Seco" in my case)
.75 oz. lime juice
.5 oz. grapefruit juice
1 tsp Maraschino liqueur (Luxardo, naturally)
1 tsp sugar
Combine all ingredients in shaker with ice. Take a chilled coupe glass, cocktail glass, or even a wine glass and, optionally, add shaved or crushed ice; more for a wine glass, less for a coupe. Shake and strain into the glass, garnish with a lime wheel or grapefruit twist. Variations include Key lime juice, if you can find fresh ones (this drink really highlights the lime juice, so don't dare use anything from a bottle), or simple syrup instead of granulated sugar.
Enjoy the drink and whatever adventure it brings. Survive. Come back with a novel.
Add a Comment