Many tool companies offer "jobsite organizer" boxes for small parts. Our local home stores carry DeWalt, Stanley, and Milwaukee products that are all on the same pattern: plastic briefcase-style box with a handle, a clear lid, and removable bins inside. Some of them can also be stacked and linked together for more storage. But since I'm not a contractor (the usual customers for these), I tend to acquire smaller quantities, but in a greater variety, of most classes of part: screws, plumbing fittings, crimp terminals, etc. So I usually want more resolution, i.e. more and smaller bins or dividers, than the organizer offers. For that, I have a 3D printer.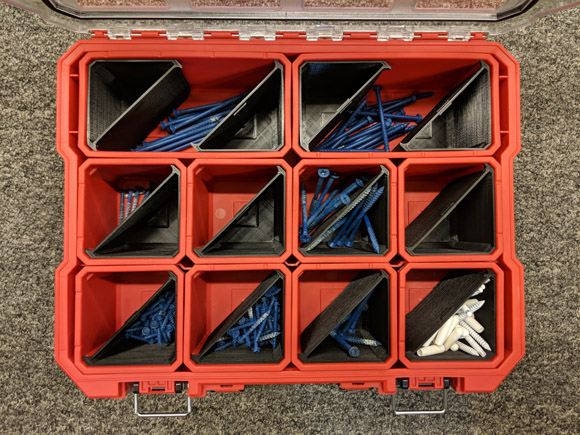 I selected the Milwaukee 48-22-8030, despite it being red, because it was the only one that had metal latch hardware, because the handle placement gives it the best ratio of internal to external volume, and because the Milwaukee organizers can be opened while linked to each other (the linking latches are only on the lids). In Onshape I designed a bin that would subdivide the smaller square bins diagonally.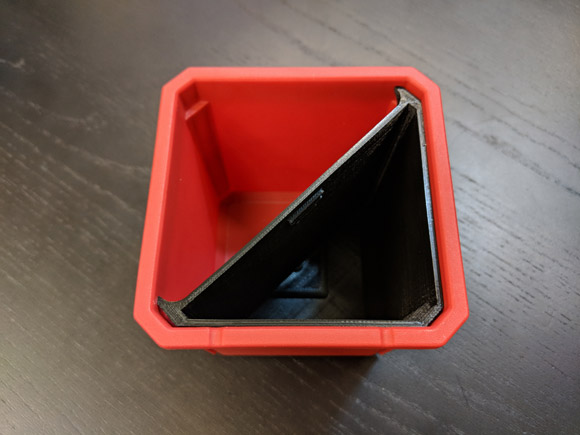 The top surface of the 3D-printed subdivider, seen here in black PLA, is just shy of the top surface of the Milwaukee bin; this is because the lid of the case is molded with an inset that goes down into the bin by 0.182 inch, securing the bin and contents. Also note the subdivider is locked in place with the help of two small "wings" at its upper corners; these engage with notches at opposite corners of the bins. It turned out that the same design also worked adequately with the larger rectangular bins. Although it's not perfect in this application owing to the lack of an opposing notch for the locking wing, it's good enough that I decided to print a few more and use them here instead of perfecting an alternative.
As with July's crimp tool and parts organizer, you can see and modify the design using Onshape or download the STL file to print your own. I made this as a new Part Studio inside the same Onshape document as the previous bins.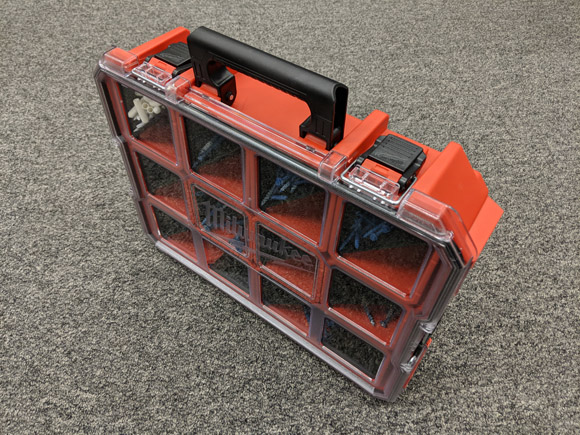 I'm using this one for Tapcon-style concrete screws, of which I have a dismaying variety (enough to fill all of the available divisions although I haven't yet done so when the photos were taken). If this design or something inspired by it is useful in your applications, please let me know!
Update, April 10, 2019: French renovator Laurent Navarro has made a set of these for his own Milwaukee organizers. Here's a photo: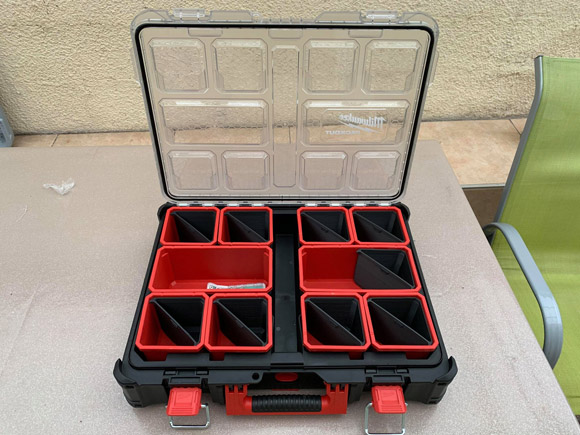 Seven Comments So Far
Add a Comment