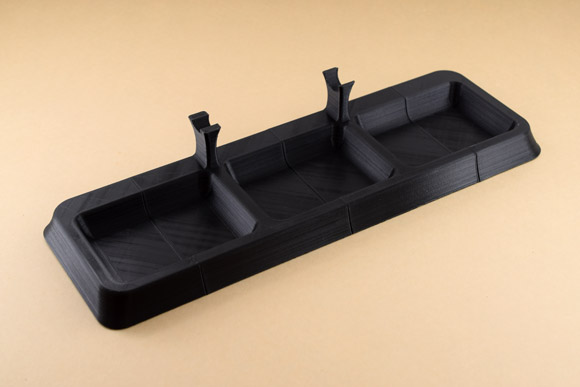 Fed up with chaos around my kitchen sink, I designed and 3D-printed a storage tray for my cleaning supplies. It features three compartments for sponges or scrubbing pads and a stand for a bottle brush. I printed this in black PLA, which is probably not a great material choice or technique for long-term kitchen use (FDM-printed plastics have a rough, striated surface finish which probably encourages the growth of bacteria) but I'm considering this a successful prototype for now. I may continue experimenting.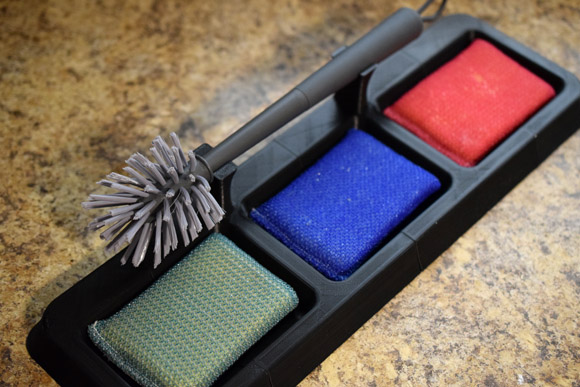 For those wondering why I need three scrubbing pads: I have a system. Now that the Dobie brand sells a package with three differently-colored pads, it's become easy for me to use the following color code:
Green: This one never touches soap. I use it for cleaning my wood cutting boards.
Blue: I use this, with soap, for cleaning knives and washing dishes.
Red: Like the blue one, but I use it only for the sink itself and any other surfaces that seem dirtier than the dishes themselves (admittedly subjective).
The geometry is somewhat specific to the pads I like to use and even more so to the bottle brush I own, but these are probably easy to change. Because of the limited area (8 inch by 8 inch) of my printer I had to divide the design into four parts which slot together with relatively tight dovetail joints. If you'd like to print one of these or play with the design yourself, use the following links: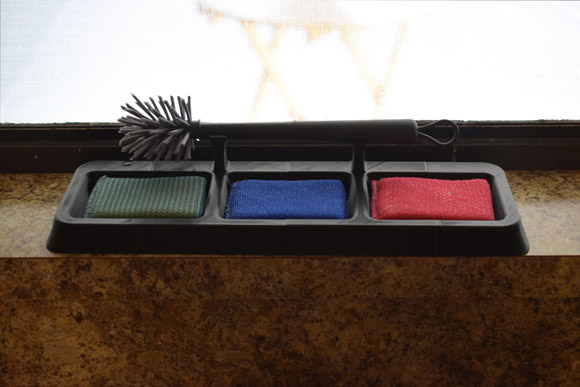 I'd also recommend sticking some rubber feet underneath to stop it slipping on your countertop. I keep mine near the window above the sink. Be sure to comment or email me if you make anything based on this!
Add a Comment