Tonight was the first dinner of our second Culinary Adventure Week. The theme: Google recipes! Simply type two ingredients into google, plus the word "recipe", like so: "chicken bacon recipe". Then hit the "I'm Feeling Lucky" button and cook whatever comes up! You really place your stomach in the hands of fate with this one—but so far with good results. Even unusual test cases like "italian sausage mussels recipe" came up looking tasty.
Sheraz wasn't home tonight, so we feasted on forbidden fruit: pork and tomatoes. Google came up with Pork Chops with Fresh Tomato, Onion, Garlic, and Feta, which worried us somewhat but turned out to be really very good.

Update—July 17, Saturday: Today's theme ingredients: Swordfish and Red Onions. Allez Cuisine!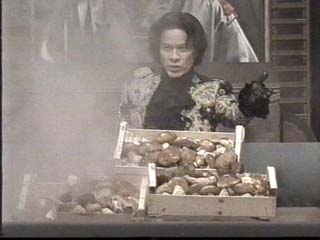 Google provided a recipe which no longer seems to be available, unfortunately. It was a grilled swordfish with a sort of red onion jam to top it off—tasty!
Sunday: As this was Father's Day, I ate with the family in Ft. Pierce and so we did not hold culinary adventure week today.
Monday: Today was my mother's turn to choose, and the choice was: chicken and avocado. Since the "I'm Feeling Lucky" result was not a recipe but a recipe aggregator, we went to the second page and picked the first recipe from there, Avocado Stuffed Chicken Breasts, thoughtfully provided by the California Avocado Commission. This recipe took a considerable amount of time. It was good but not really worth it.
Tuesday: Today was my mother's turn to cook. "Shrimp and corn" was the consensus of all present on monday night. So we went to my parents' house for Shrimp, Corn and Red Pepper Salad Sandwiches, which turned out to be wheat rolls stuffed with baby shrimp and raw corn, with a bit of heat to them. It would have made a fine salad without the bread as well.
Wednesday came and went without any culinary adventure to speak of, unless you count adding only half of the flavor packet to a pot of ramen noodles. Dear readers, I apologize. I was working into the night and wasn't able to commit the time that having an adventure always requires.
Thursday: the final night and grand finale of the week! Tonight my girlfriend and I luxuriated in "beef and bacon". Since the first recipe was really an appetizer, we jumped to number 5 on the list, in accordance with Torm Martinson's rule. The result: Bacon Wrapped Beef Tenderloin Steaks with Spinach and Cheese Cakes, a lovely and excellent dish that left the uninvited salivating with hunger and steaming with anger!
Once again, thanks to everyone who nominated ingredients, cooked, or ate with us.
Add a Comment