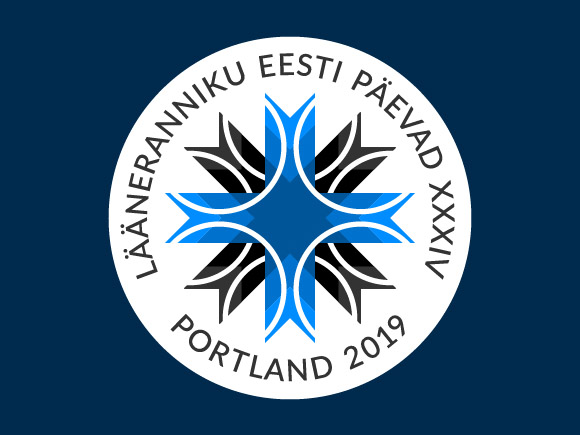 I'm pleased and very honored to announce that my submission has been chosen as the official logo of the 34th West Coast Estonian Days, or Lääneranniku Eesti Päevad, to be held in Portland, Oregon next summer. My design process for this one wasn't easy but each setback eventually resulted in something better! Here's an explanation of the logo's symbolism from my proposal document (which also contains some variations and application suggestions that may be of interest):
Overall an eight-pointed star, representing the cornflower or rukkilill
Blue cross symbolizing the confluence of the Columbia and Willamette rivers
In the center, in white, the hypocycloid of Portland's flag
The end of the petal also suggests the forked tail of the barn swallow, Estonia's national bird
Stepped color gradients add depth and texture, recall traditional Estonian mustrid
Arrows pointing inward, symbolizing the meeting of the West Coast Estonian community
I'm grateful to Kalev Sepp, Kalle Merilo, Triina Merilo, Helve Kalmann, the board of directors and all of the organizers of LEP 2019 for this opportunity to add something to one of my favorite festivals. I'll see you all in Portland!